For those of us who have loved and lost a special friend, these words are hard to read.
They take us back to that time of loss, and makes our grief fresh.
For some of us, it starts our anticipatory grief, knowing our time with our current friend is so limited.
Ultimately, these words give us comfort in knowing we are not alone in our grief.
Here are a few of our favorite poems...
For our friends Edgar and Cameron...
The Rainbow Bridge
Inspired by a Norse legend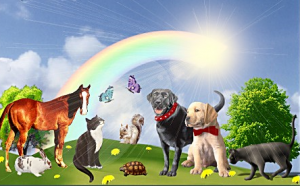 By the edge of a woods, at the foot of a hill,
Is a lush, green meadow where time stands still.
Where the friends of man and woman do run,
When their time on earth is over and done.
For here, between this world and the next,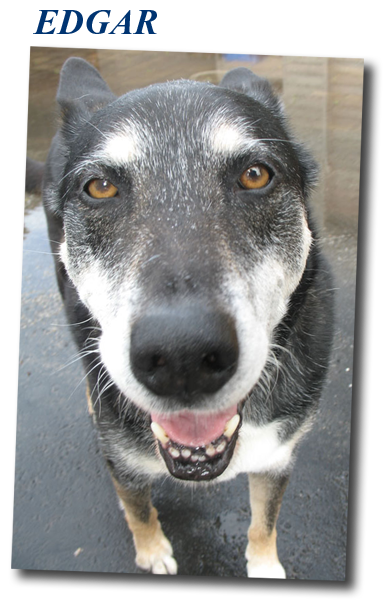 Is a place where each beloved creature finds rest.
On this golden land, they wait and they play,
Till the Rainbow Bridge they cross over one day.
No more do they suffer, in pain or in sadness,
For here they are whole, their lives filled with gladness.
Their limbs are restored, their health renewed,
Their bodies have healed, with strength imbued.
They romp through the grass, without even a care,
Until one day they start, and sniff at the air.
All ears prick forward, eyes dart front and back,
Then all of a sudden, one breaks from the pack.
For just at that instant, their eyes have met;
Together again, both person and pet.
So they run to each other, these friends from long past,
The time of their parting is over at last.
The sadness they felt while they were apart,
Has turned into joy once more in each heart.
They embrace with a love that will last forever,
And then, side-by-side, they cross over… together.
© 1998 Steve and Diane Bodofsky. All Rights Reserved.
I Am Not There
Do not stand at my grave and weep;
I am not there. I do not sleep.
I am a thousand winds that blow.
I am the diamond glints on snow.
I am the sunlight on ripened grain.
I am the gentle autumn's rain.
When you awaken in the morning's hush,
I am the swift uplifting rush
of quiet birds in circled flight.
I am the soft stars that shine at night.
Do not stand at my grave and cry;
I am not there, I did not die.
Various sources attribute this poem to the one of the following authors:
(A) Mary Frye
(B) Joyce Fossen
(C) An unknown member of the Hobi Native American Tribe
I Am Not There
I stood by your bed last night, I came to have a peep.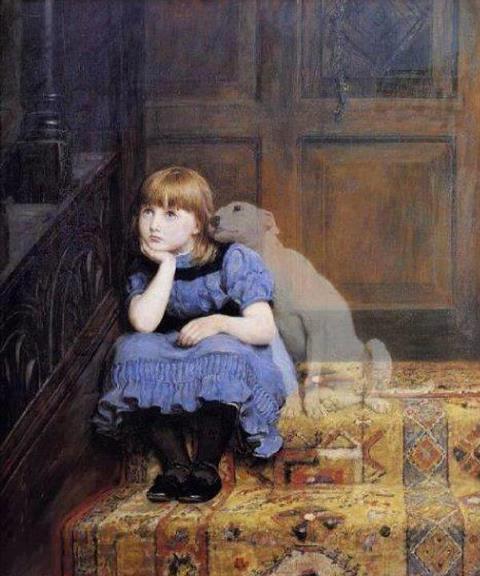 I could see that you were crying, You found it hard to sleep.
I whined to you softly as you brushed away a tear,
"It's me, I haven't left you, I'm well, I'm fine, I'm here."
I was close to you at breakfast, I watched you pour the tea,
You were thinking of the many times, your hands reached down to me.
I was with you at the shops today, Your arms were getting sore.
I longed to take your parcels, I wish I could do more.
I was with you at my grave today, You tend it with such care.
I want to re-assure you, that I'm not lying there.
I walked with you towards the house, as you fumbled for your key.
I gently put my paw on you, I smiled and said " it's me."
You looked so very tired, and sank into a chair.
I tried so hard to let you know, that I was standing there.
It's possible for me, to be so near you everyday.
To say to you with certainty, "I never went away."
You sat there very quietly, then smiled, I think you knew...
In the stillness of that evening, I was very close to you.
The day is over... I smile and watch you yawning
and say "good-night, God bless, I'll see you in the morning."
And when the time is right for you to cross the brief divide,
I'll rush across to greet you and we'll stand, side by side.
I have so many things to show you, there is so much for you to see.
Be patient, live your journey out...then come home to be with me.
by unknown
Solace
From the silence of your pain I heard my name
and on the wings of light I have come
to see the sadness in your eyes that cry without tears
Can you see me, I am here
I will always be near you
to calm your shattered heart
and to make you smile at the memories
Do you feel me, perhaps a soft brush of fur
You ache to believe it's real
but you are afraid to hope
You brush away a strand of hair
But it was I, whispering.....
I am only here for but a moment
The silver thread gently quivers
I will leave behind my love in a dream
When you awaken, and without really knowing why
Your heart will know at last
That it is all right, for now to say good-bye
Shadow's Song (on the death of a cat)
I'm not gone...not really.
I haven't gone away...I've only gotten bigger.
My eyes, so bright, now shine among the stars.
My voice sings with the wind in winter, as I leap
And dance among the tree tops.
I stalk the blown leaves in autumn, and brush the
Flowers gently in the spring.
I come to you in dreaming, on feet grown dreamtime soft,
And lay my cheek against yours, and whisper:
"Peace be with you."
Someday we will play again together, you and I, among the stars.
'Til then, fear not to love, for your love gave my life meaning.
And I return that love to you...a hundredfold...a thousandfold...
Forever.
Copyright © 1996 by Audrey E. Nickel
For our friend Kipper...
The House Dog's Grave

by Robinson Jeffers (1887-1962)
I've changed my ways a little; I cannot now
Run with you in the evenings along the shore,
Except in a kind of dream; and you,
If you dream a moment,
You see me there.
So leave awhile the paw-marks on the front door
Where I used to scratch to go out or in,
And you'd soon open; leave on the kitchen floor
The marks of my drinking-pan.
I cannot lie by your fire as I used to do
On the warm stone,
Nor at the foot of your bed; no,
All the nights through I lie alone.
But your kind thought has laid me less than six feet
Outside your window where firelight so often plays,
And where you sit to read'
And I fear often grieving for me'
Every night your lamplight lies on my place.
You, man and woman, live so long, it is hard
To think of you ever dying.
A little dog would get tired, living so long.
I hope that when you are lying
Under the ground like me your lives will appear
As good and joyful as mine.
A Dog's Last Will and Testament
This one is for those of you who can't handle getting another animal to share life with... meanwhile thousands of animals get euthanized in shelters for lack of a home ~ Whitney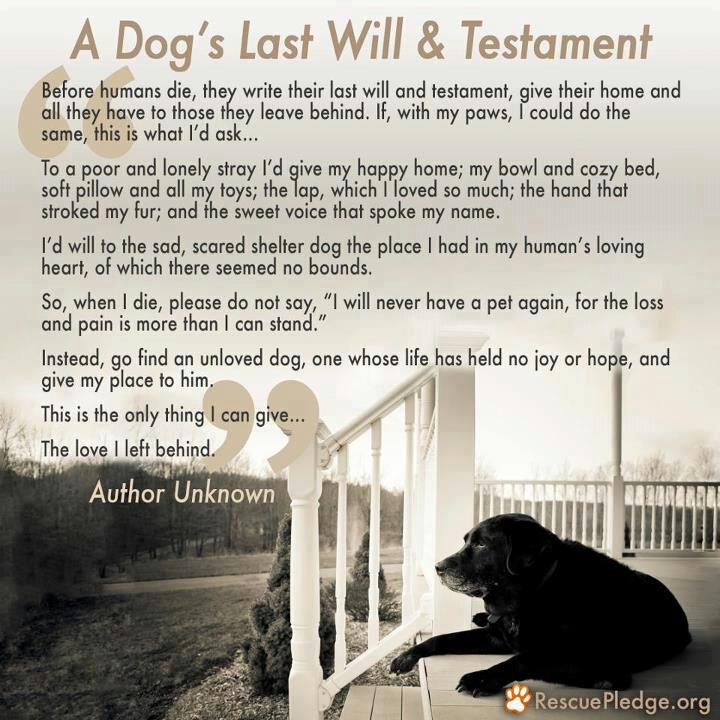 The All Time List of Pet Loss Poems and Prayers: HERE