Support for Human Hospice Patients
Often,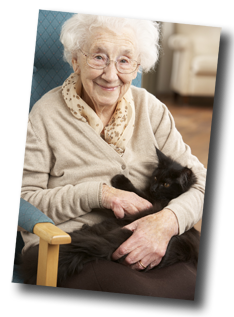 during this highly stressful time, companion animals are virtually ignored or seen as another task. The animal's needs may not be taken into consideration. Relatives and friends of hospice patients may be too overwhelmed with their own grief to think about the animal and hospice workers are there primarily for their human patients. Animals are very sensitive, they can feel all the emotions of those around them and they will grieve the loss of their owner. They may act out due to the change in their routine, may whine or howl, or they may become depressed and listless. Companion animals need someone to help make their transition easier and that is where Simpawtico Animal Hospice comes in, to help give the animals a sense of routine and to ensure their future happiness and comfort.
IT IS BEST FOR YOUR PET IF SIMPAWTICO GETS INVOLVED IMMEDIATELY!
DO NOT WAIT UNTIL THE PET'S OWNER IS COMPLETELY INCAPACITATED!
Here are the services Simpawtico Animal Hospice
provides to clients*:
• In-home care
- We offer in-home care of companion animals of human hospice patients
- Petsitting for those times the patient is hospitalized or in a care facility on a temporary basis
- Yard or litter box clean-up
- Feeding, water and tasty treats
- Gooming for hygiene
- Transportation to veterinary care or groomer
- We try to keep your pet on their usual schedule, to make their transition easier
• Re-homing services
- Let us help you find a new forever home for your companion animals, for that time when you can no longer care for your animal
- Keep in mind that finding a new forever home may take a year for an older animal!
- Your pet can stay with you, even after a new home is found
- Loving, compassionate foster homes available, if necessary
- We offer your pet support in their grief (studies have found that animals grieve). We will do whatever we can to make their transition to a new home easier - whether that home is a friend, relative, foster home, or new forever home
- Read about dogs and their grief HERE
- If you do not have a contract with Simpawtico, read HERE for our policies.
• Behavioral Issues
- Whether your pet's new home is with a member of your family or a stranger, this experience may be very stressful for your pet. Stress and grief can turn even the most well-behaved critter into a "problem pet".
- We work with local trainers who can help with any behavioral issues due to your pet's grief, transition or new environment
• Pet Trust or Pet Power of Attorney
- Let us help you create a Pet Trust or a Pet Power of Attorney for your pet, to guarantee your pet's continued care
- Information about a Pet Trust HERE
* Contract required. Most services are free with contract.

• Coming soon...
- Therapy Pets: in-home visits from therapy pets for human hospice patients