PET GRIEF LINKS
• Grief and Dogs
• Wall Street Journal article about pet grief
• Grief in Horses, from Equine Wellness, by Dr. Ella Bittel
HORSE INFO
• Down Horse: It must not (always) be the end, by Dr. Ella Bittel
BOOKS
The following books, charts and DVDs are about alternative therapies, nutrition, grief and pet loss. There is info about dogs, cats, birds, horses, cows and more. There does not seem to be much holistic or alternative information for reptiles, if you have a suggestion of something you have read, please let me know.
Many of these (and more) are found in our local libraries or at Amazon.com. These books have been rated at least 4 out of 5 stars by reader reviews.
We have provided links to amazon.com. Any shopping you do after connecting through one of our links, will earn Simpawtico a donation from Amazon! It doesn't even have to be one of these books!
Orthopedics
• An overview of canine orthopedic equipment
• For Paws Hospice Program Matching used orthopedic devices withdogs who need them

Holistic or Natural Pet Care
BOOKS
• 10 Herbs for Happy, Healthy Cats, by Lura Rogers Seavey
• Complete Holistic Care and Healing for Horses: The Owner's Veterinary Guide to Alternative Methods and Remedies, by Norma Eckroate
• Complete Holistic Dog Book: Home Health Care for Our Canine Companions, by Jan Allegretti
• Dog Cancer: The Holistic Answer: A Step by Step Guide, by Dr. Steven Eisen
• Encyclopedia of Natural Pet Care, by C. J. Puotinen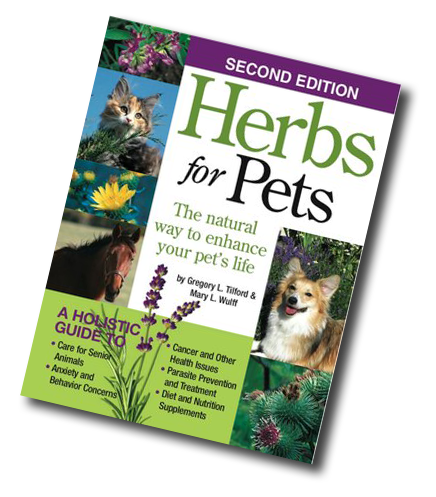 • Everything Natural Health for Dogs Book: The healthy, affordable way to ensure a long, happy life for your pet, by Elaine Waldorf Gewirtz
• Guide to Herbal Dog Care, by Dr. Randy Kidd
• Healthy Way to Stretch Your Dog: A Physical Therapy Approach, by Sasha Foster
• Herbs for Pets: The Natural Way to Enhance Your Pet's Life, by Mary L. Wulff and Greg L. Tilford... LOCAL AUTHORS!
• Holistic Care for Birds, by Pamela Leis Higdon
• Holistic Dog Book: Canine Care for the 21st Century, by Denise Flaim
• Home-Prepared Dog & Cat Diets: the Healthful Alternative, by Donald R. Strombeck
• Illustrated Guide to Holistic Care for Horses: An Owner's Manual, by Denise Bean-Raymond
• Natural Health Bible for Dogs & Cats: Your A-Z Guide to Over 200 Conditions, Herbs, Vitamins, and Supplements, by Shawn Messonnier
• Natural Health Care for Your Bird: Quick Self-Help Using Homepathy and Bach Flowers, by Bernard Dorenkamp
• Nature of Animal Healing: The Definitive Holistic Medicine Guide to Caring for Your Dog and Cat, by Martin Goldstein
• Pet Lover's Guide to Natural Healing for Cats And Dogs, by Barbara Fougère
• Veterinarians Guide to Natural Remedies for Dogs: Safe and Effective Alternative Treatments and Healing Techniques from the Nations Top Holistic Veterinarians, by Martin Zucker
• Your Dog's Golden Years - Manual for Senior Dog Care Including Natural Remedies and Complementary Options, by Jennifer Kachnic
Alternative Therapies
BOOKS
• Acu-Cat: A Guide to Feline Acupressure, by Nancy A. Zidonis
• Acu-Dog: A Guide to Canine Acupressure, by Nancy A. Zidonis
• Alternative Treatments for Ruminant Animals, by Paul Dettloff
• Animal Psychic Communication Plus Reiki Pet Healing, by Steve Murray
• Animal Reiki: Using Energy to Heal the Animals in Your Life, by Elizabeth Fulton
• Animal Reiki Handbook: Finding Your Way With Reiki in Your Local Shelter, Sanctuary or Rescue, by Kathleen Prasad
• Beyond Horse Massage: A Breakthrough Interactive Method for Alleviating Soreness, Strain, and Tension, by Jim Masterson
• Canine Massage: A Complete Reference Manual, by Jean-Pierre Hourdebaigt
• Complete Guide to Animal Reiki: animal healing using Reiki for animals, Reiki for dogs and cats, equine Reiki for horses, by Sarah Berrisford
• Essential Oils for Animals, by Nayana Morag
• Essential Oils for Horses, by Carole Faith
• Feline Acupressure Meridien Composite Cat Chart (chart)
• Four Paws, Five Directions: A Guide to Chinese Medicine for Cats and Dogs, by Cheryl Schwartz
• Getting in TTouch with Your Dog: An Easy, Gentle Way to Better Health and Behavior, by Linda Tellington-Jones
• Hands-On Healing for Pets: The Animal Lover's Essential Guide to Using Healing Energy, by Margrit Coates
• Healing Touch for Dogs: The Proven Massage Program for Dogs, by Michael W. Fox
• Holistic Aromatherapy for Animals: A Comprehensive Guide to the Use of Essential Oils & Hydrosols with Animals, by Kristen Leigh Bell
• How to Identify and Release Your Horse's Pain Points: An Owner's Guide, by Lorrie Bracaloni
• Modern Horse Herbal, by Hilary Page Self
• T-Touch of M.A.G.I.C. for Horses: A Holistic Training Approach to the Body, Mind and Spirit of the horse [VHS], by Linda Tellington-Jones
• Therapeutic Holistic Dog Massage, by Elsa Valdez. This is a DVD - learn by watching!
• Understanding Equine Acupuncture: Your Guide to Horse Health Care and Management, by Rhonda Rathgeber
• Veterinary Acupuncture: Ancient Art to Modern Medicine, by Allen M. Schoen DVM, MS. A great book if you plan on doing animal accupuncture - dogs, cats, horses, cows, etc.
Grief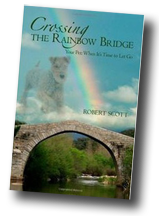 GRIEF BOOKS FOR ADULTS
• Animals and Afterlife: True Stories of Our Best Friends' Journey Beyond Death, by Kim Sheridan
• Cold Noses at the Pearly Gates, by Gary Kurz
• Coping with the Loss of a Pet, by Christina M. Lemieux and Wallace R. Clark
• Coping with Sorrow on the Loss of Your Pet, by Moira Anderson
• Crossing the Rainbow Bridge: Your Pet - When it's Time to Let Go, by Robert Scott
• For Every Dog an Angel, by Christine Davis
• Going Home: Finding Peace When Pets Die, by Jon Katz
• Goodbye, Friend: Healing Wisdom for Anyone Who Has Ever Lost a Pet, by Gary Kowalski
• Good Grief: Finding Peace After Pet Loss (Personal & Professional Insights on the Animal Lover's Unique Grieving Process), by Sid Korpi
• Grieving the Death of a Pet, by Dr. Betty Carmack
• How to ROAR: Pet Loss Grief Recovery, by Robin Jean Brown
• Humphrey Was Here: A Dog Owner's Story of Love, Loss and Letting Go, by Mark J. Asher
• I Will See You in Heaven (dog edition), by Jack Wintz
• I Will See You in Heaven (cat edition), by Jack Wintz
• Legacies of Love: A Gentle Guide to Healing From the Loss of Your Animal Loved One, by Teresa Wagner
• Living Through Personal Crisis, by Ann Kaiser Stearns
• Maya's First Rose: Diary of a Very Specal Love, by Martin Scott Kosins
• Paw Prints in the Stars: A Farewell and Journal for a Beloved Pet, by Warran Hanson (a journal YOU create in your pet's memory)
• Pet Loss: A Thoughtful Guide for Adults and Children, by Herbert A. Nieburg and Arlene Fischer
• Pet Poems, compiled by Patrick Edwards-Daugherty
• Saying Goodbye to the Pet You Love: A Complete Resource to Help You Heal, by Lorri A. Greene
• Saying Goodbye to Your Angel, by Allen Anderson
• The Older Cat: Recognizing Decline and Extending Life, by Dan Poynter
• The Rainbow Bridge: Pet Loss is Heaven's Gain, by Niki Behrikis Shanahan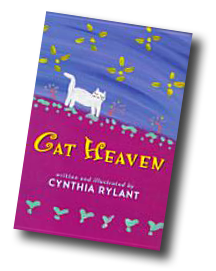 • Three Cats, Two Dogs: One Journey Through Multiple Pet Loss, by David Congalton
• Tucker the Spirit Cat: A Meditation on Love & Hope for Anyone Grieving the Loss of an Animal Friend, by Sara Goldenthal
• When Your Pet Dies: A Guide to Mourning, Remembering and Healing, by Alan Wolfelt
• When Your Pet Dies: How to Cope with Your Feeling, by J. Quackenbush and D. Graveline
GRIEF BOOKS FOR KIDS
• Cat Heaven, by Cynthia Rylant
• Children and Pet Loss: A Guide for Helping, by Marty Tousley
• Daddy Fixes Everything: An Insightful Family Story About Pet Loss and Departure, by Ronen Divon
• Dog Heaven, by Cynthia Rylant
• For the Grieving Child: An Activities Manual, by Suzan Jaffe
• Help Me Say Goodbye: Activities for Helping Kids Cope When a Special Person Dies, by Janis Silverman
• I'll Always Love You, by Hans Wilhelm
• Lifetimes, by B. Mellonie and R. Ingpen
• Oh, Where has My Pet Gone?, by Sally Sibbett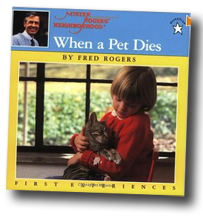 (for ages 3 to 103)
• Pet Loss: A Thoughtful Guide for Adults and Children, by Herbert A. Nieburg and Arlene Fischer
• Sad Isn't Bad: A Good Grief Guidebook, by R.W. Alley and Michaelene Mundy
• Saying Goodbye to Your Pet: Children Can Learn to Cope with Pet Loss, by Marge Eaton Heegaard
• The Day Scooter Died, by Kathleen Long Bostrom
• The Forever Dog, by Bill Cochran
• The Tenth Good Thing About Barney, by Judith Viorst
• When Children Grieve, by Russell Friedman and John W. James (for adults to help children)
• When a Pet Dies, by Fred Rogers (Mister Rogers!)
• When Your Pet Dies: A Healing Handbook for Kids, (Elf-Help Books for Kids) by Victoria Ryan
• When Shiner Died: A Children's Book About Pet Loss, by Rebecca S. Hauder
Natural Supplements
Simpawtico does not endorse any of these products, but found interesting information on these sites.
Pet Nutritional Supplements
Click on the condition and it will tell you what natural supplements might help.
http://www.petnutrisystem.com/index.html
Glucosamine for Horses
http://www.panamvetcorp.com