HOW WE WORK
Simpawtico cannot guarantee a new forever home for your pet - no one can.
We do have foster homes, but it is best to leave the animal where it has been living as long as possible.
If the owner has already passed, this animal is most likely grieving.
Animals do not adapt to change very well, it can depress them, plus cause physical and behavioral problems.
Simpawtico Animal Hospice requires that you sign a contract with us,
so that you understand what services you are getting,
and we understand all the information about the animal.
There is no charge for re-homing an animal that is under hospice contract when the owner is no longer capable.
This means you sign-up BEFORE the pet owner is incapacitated.
Once you have signed with Simpawtico, we will post the animal on our site,
also we contact other rescue oraganizations (local and national),
post in various groups (such as local dog groups or breed groups), use social media, and email our extensive network.
We will do everything we can to find a new forever home that is a good fit for the animal.
Prospective pet adopters will have to fill out an application, pass an interview and a home check.
PLEASE START THIS PROCESS EARLY!
Your companion can stay with you as long as possible - even AFTER a new home is found.
Wouldn't it be nice if you had a say in who cares for your companion?
It can sometimes take a year to find a home for an older pet, so it is wise to start early.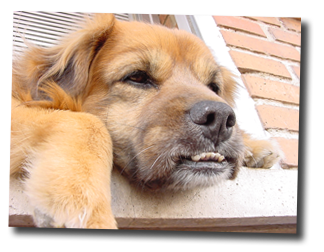 "MY RELATIVES ARE GOING TO TAKE THE PET"
This does not mean the transition will be trouble-free!
Pets have an adjustment period and they are grieving. There will probably be some behavior issues.
Your family is most likely overwhelmed and grieving - the last thing they can handle is pet problems.
Even the most well-meaning family sometimes cannot handle it all.
BEHAVIORAL ISSUES DURING TRANSITION
As a Simpawtico Animal Hospice client, we will be there to help your pet through their grief
and help with any behavioral issues during the transition to a new home.
Some "good" dogs have been known to howl all night and have extreme separation anxiety.
We work with local trainers to help the animal adjust to their new life in a new home.