People's pets say I Spoil 'em Rotten... I can live with that.

Does your hound need a hike? Kitty kat need some cuddles? Or does your pet need a ride to the vet or pet groomer? Are you visiting Santa Cruz and need to know where your pooch is welcome? Let me give your baby the royal treatment... and give you some peace of mind!
I provide loving care and am dedicated to providing a safe, stress-free experience for you and your pet. I don't just stop by on my way to another job... I learn about your pet's likes, dislikes, needs, and maintain their regular schedule during your absence. I even email/text photos or videos to show you the fun your pet is having!
I am fluent in speaking "dog", Red Cross certified in Pet CPR & First Aid, trained in T-Touch (an energy massage technique that calms any animal), plus I have had animal hospice training at UC Davis. I specialize in care for ill or injured pets.
For the last 10 years, I have been very active in the local dog community. As pack leader of Woofers & Walkers, I lead a weekly walk for pooches and their people. We have been able to expand opportunities for responsible dog owners (such as shopping in Downtown Santa Cruz) and have encouraged over two dozen more restaurants to become dog-friendly! I am also regular contributor to Coastal Canine Magazine, writing about all the great places to take your pup.
I was rescued by my best friend, GiGi, a beautiful Belgian Malinois. We've done training in obedience, agility and dock diving.
We look forward to meeting you.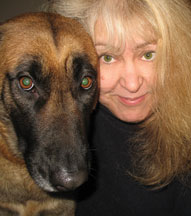 We support the following organizations...