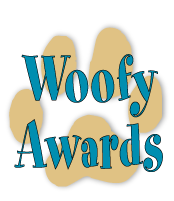 The Woofy Awards...
Voting was online from November until January 1.
Over 500 local Santa Cruz County dog owners voted for
their favorite places to go walk, shop and eat with their dogs.
We learned a few things...
Santa Cruz dog owners do not choose a place because it is off-leash, they choose them because they like that area or because it is close to home.
Voters were VERY vocal about wanting more off-leash access and about bringing their dogs shopping on Pacific Avenue.

FIRST PLACE WINNERS
Winners receive a framed certificate
- designed by fabulous local artist James Aschbacher -
and a sticker to display in their window.
SECOND PLACE WINNERS
2nd Place gets a certificate and a window sticker.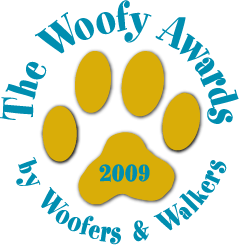 Here are the results:
DOG PARKS
Favorite Park
1. Aptos Polo Grounds (off-leash)
2. Scotts Valley Dog Park (off-leash)

Favorite Beach
1. Its Beach
2. Beaches from 21st Avenue to 38th Avenue
PLACES TO WALK YOUR DOG
Favorite place?
1. West Cliff Drive
2. Any beach

Favorite State Beach or Park?
1. Seacliff
2. Henry Cowell

Dog-Friendly Attraction
1. Surfer's Museum at Lighthouse Point
2. Roaring Camp Railroad
DOG-FRIENDLY RESTAURANTS
Favorite Breakfast Restaurant?
1. Aldo's (overwhelmingly)
2. Harbor Café (has dog menu!)

Favorite Lunch Restaurant?
1. Kelly's French Bakery
2. Michaels on Main / Café Limelight (has dog menu!)

Favorite Dinner Restaurant?
1. The Crepe Place
2. Seabright Brewery
PET SERVICES
Favorite Veterinary Hospital?
1. Harbor Veterinary
2. Aptos Creekside Pet Hospital
No clear winner on favorite vet. Votes spread out all over.

Favorite Dog Groomer?
1. Bed & Biscuits/Groomingdales
2. Shampoo-Chez

Favorite Dog Walker?
1. The dog's owner
2. See Spot Run – Sierra Robbins

Favorite Doggy Day Care?
1. Bed & Biscuits
2. Little Pup Lodge

Favorite Overnight Pet Sitter?
1. Bed & Biscuits
2. Little Pup Lodge

Best Dog Obedience Trainer
1. Bingo Dog Training, Cynthia Edgerly
2. Kindred Spirit, Lori Katz


Best Agility Trainer?
1. Bingo Dog Training, Cynthia Edgerly
2. Monterey Bay Dog Training Club


Favorite Local Rescue Group or Organization?
1. SPCA
2. Santa Cruz County Animal Services


Best Place to Buy Pet Food?
1. Pet Pals (over 50% of the votes!)


Best Place to Buy Collars, Accessories, etc.
1. Pet Pals
2. Bark Place
MISCELLANEOUS
Favorite Local Dog Event?
1. Woof to Woof, Scotts Valley (64%!)
2. Pooches in the Park, Aptos
3. C-DOG Spring Dog Parade, Soquel
Other Dog-Friendly Businesses
1. People's Coffee
2. The dump! Always has biscuits for dogs.
Honorable Mention:
East Cliff Video, Comerica Bank, Santa Cruz Skate & Surf, Long's in Capitola (now CVS), artist James Aschbacher, Liberty Bank in Boulder Creek, Boulder Creek Methodist Church, Ace Hardware on the Westside, Riverside Lighting, Bay Federal, Probuild Lumber Yard, Home Depot, Joe on the Go in Soquel, Surf City Coffee, Aptos Post Office, Davenport Post Office, artist Stephanie Schriver, Leo's U-Save Liquors in Scotts Valley, Pier One, Ross Dress For Less, Cost plus, Westside Beauty Supply, Lenz Arts, King's Paint, Firefly Coffee, Greenspace, Santa Cruz Library on Woodrow, chiropractor Traci Martin, Boulder Creek Hardware Store, OSH, The Bicycle Trip, artist Marvin Plummer, Santa Cruz Mountain Brewery, Blockbuster Video, The Kind Grind, Chase Bank in Scotts Valley, DVD To Go in Scotts Valley, Sherwin Williams Paint, Village Fair Antiques, The Craft Gallery, Brady's Yacht Club, Santa Cruz County Banks with their annual "Man's Best Friend" art show, and all the shops at Swift Street Courtyard/Kelly's French Bakery.
Anyone You Would Like to Recognize for their Good Work on Behalf of Local Dogs?
1. Lisa Carter of the SPCA
2. Whitney Wilde (for opening up new opportunities for dog owners)
3. Kelly Luker of Little Pup Lodge does a lot of rescuing, fostering