Dogs in Santa Cruz... statistics
How many dogs? How many are licensed?
How much off-leash space? How much do dog owners pay in taxes/licenses?
Who are dog owners? Health benefits of dogs
Why off-leash dog parks?
According to a county-wide survey done by Santa Cruz County Animal Services:
Dogs: 58,885 in County; 12,912 in City of Santa Cruz
Humans: 272,201 in county; 59,684 in city of Santa Cruz
That means that 41% of households have at least one dog.
According to the last census, 23% of households have someone under 18 years old.
- The percentage of people who play soccer = 6%
Number of soccer fields = 14 - Percentage of households with a dog = 41%
Number of county parks in Santa Cruz = 34
Number of county dog parks = 2
Off-Leash Tickets
SCCAS "dog cops" only issued 24 tickets for off-leash in 2011 - for the whole county.
According to Officer Todd Stosuy, 5% of an ASC officer's job involves dealing with off-leash animals.
29 Miles of beaches
According to SC County Visitors Center, there are 29 miles of beaches in Santa Cruz County.
How many miles of dog beach?
Mitchell's Cove is the only legal dog beach. It is less than ¼ mile and is gone completely in winter.
How many dogs are licensed?
15% Countywide, 12% in Santa Cruz City (in 2011)
The SCCAS survey showed that a major factor in the low percentage of licenses
is that many people think they have received a license,
but it is actually the rabies tag.
$28 per license x 8834 licensed dogs = $247,324 per year.
2011-12 SC County budget for Parks & Culture = $2,693,636
(we dog-owning taxpayers pay 41% of that, or over $1 million of the P&R budget)
AVMA (American Veterinary Medical Association) report on pet owner demographics (2007):
Nearly half of pet owners, or 49.7%, considered their pets to be family members.
Dog owners are middle-aged home owners with children.
We spend over $43 BILLION on our pets.
Half of all dog owners consider their dog when buying a car.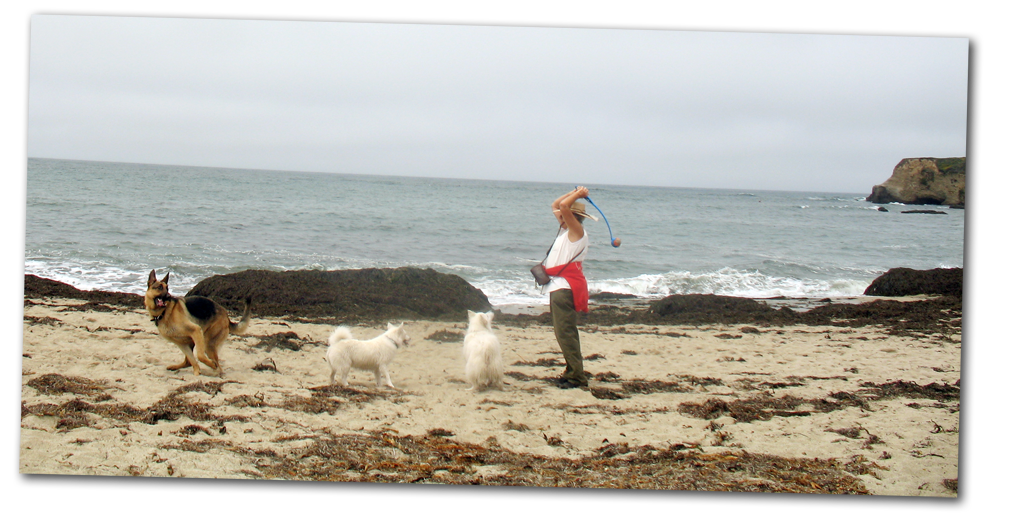 HEALTH BENEFITS OF DOGS
Journal of Physical Activity & Health
Article HERE
Does getting a dog increase walking? HERE
Unleashing their potential: presence of dogs on physical activity HERE
Unleashing physical activity - Dog owners use parks year-round HERE
New research analyzed the results from almost thirty studies investigating
the effects of owning a dog on physical activity.
Here are the results:
• Nearly two in three dog owners walked their dogs.
• Most people walked their dogs 4 times each week.
• The average dog walker met exercise targets by walking the dog.
• On average, the time spent walking the dog was 160 minutes per week.
2011 AVMA report*
• Pets Help to Lower Blood Pressure A recent study at the State University of New York at Buffalo found that people with hypertension who adopted a cat or dog had lower blood pressure readings in stressful situations than did those who did not own a pet. (Dr. Karen Allen, State University of New York at Buffalo)
• Pets Help to Reduce Stress Walking with a pet helps to sooth nerves and offers instant relaxation. Studies conducted worldwide have shown that the impact of a stressful situation is lesser on pet owners, especially males, than on those who do not own a pet. (Josephine M. Wills, Waltham Centre for Pet Nutrition, United Kingdom)
• Pets Help to Prevent Heart Disease Because pets provide people with faithful companionship, research shows they may also provide their owners with greater psychological stability, thus a measure of protection from heart disease. (National Institute of Health Technology Assessment Workshop: Health Benefits of Pets)
• Pets Help to Lower Health Care Costs People with pets actually make fewer doctor visits, especially for non-serious medical conditions. (National Institute of Health Technology Assessment Workshop: Health Benefits of Pets)
• Pets Help to Fight Depression Pets help fight depression and loneliness, promoting an interest in life. When seniors face adversity or trauma, affection from pets takes on great meaning. Their bonding behavior can foster a sense of security.
*AVMA report: "Between Pets and People: The Importance of Animal Companionship"