Send letters or emails to all of those government agencies involved.
Go to meetings!
Many of these representatives may personally want off-leash areas,
but they need YOUR help!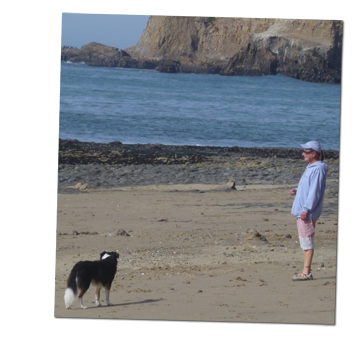 SANTA CRUZ COUNTY
Santa Cruz County Animal Services
Attend the SCCAS Board meeting
To find out which district you are in, go HERE.
Santa Cruz County Department of Parks
County Parks Commission
Email: PRCweb@co.santa-cruz.ca.us
District 1 = Michael Rosenberg
District 2 = Katherine Minott (has a dog)
District 3 = Jim Lang
District 4 = vacant (good time to get in there and fight for off-leash!)
District 5 = Dave Mercer
Santa Cruz County Board of Supervisors
Meeting schedule: HERE
To send an email that will go into the Board of Supes official records...
Go to the page for the agenda of the meeting your issue will be discussed.
HERE
Click on the Agenda (not PDF). On one side of your agenda item, you will see a little envelope.
Click the little envelope BEFORE 9AM THE DAY OF THE MEETING to send an email.

* * Sending an email to your representative is considered
"correspondence" and not an official record! * *
District 1 = John Leopold
(john.leopold@co.santa-cruz.ca.us)
He has open meetings all over his district where you can chat with him.

District 2 = Ellen Pirie
(ellen.pirie@co.santa-cruz.ca.us)
District 3 = Neal Coonerty
bds031@co.santa-cruz.ca.us
District 4 = Greg Caput
greg.caput@co.santa-cruz.ca.us
District 5 = Mark Stone
mark.stone@co.santa-cruz.ca.us
He has open meetings around his district.
CAPITOLA
Parks Department
Elise Legare, Supervisor - elegare@ci.capitola.ca.us
City Council
citycouncil@ci.capitola.ca.us
Meets 2nd & 4th Thursday, 7pm, council chambers
CITY OF SANTA CRUZ
Parks and Recreation
Dannette Shoemaker, director
parksandrec@cityofsantacruz.com
Parks Commission
amacbird@cityofsantacruz.com
Meetings are held on the first Monday every other month
(January, March, May, July, September and November)
from 4:00-6:00 p.m. in the City Council Chambers.
Santa Cruz City Council
Email: citycouncil@cityofsantacruz.com
(This email goes into public record. Emailing the individual councilmember does not.)
SCOTTS VALLEY
Scotts Valley Parks Manager
Conrad Sudduth - csudduth@scottsvalley.org
Scotts Valley City Council
Email: seajems@pacbell.net, dene@bustichi.com, rlj12@comcast.net, dlindslind@earthlink.net, jimreedSV@gmail.com
WATSONVILLE
City Council
Each member has a district.
For more info: HERE
Parks Department
Ana Espinoza, director- aespinoz@ci.watsonville.ca.us