426
MORE DAYS
UNTIL YOUR DOG
HAS TO BE
ON-LEASH
AT LFSB AND
ITS BEACH

If nothing changes,
we lose
off-leash access
in November 2007!
Please visit the
FOLF website
for more about the
history and issues


Wine Tasting
FUNDRAISER FOR
LFSB WATER FOUNTAIN &
UPCOMING FOLF PROJECTS!
FRIDAY, SEPTEMBER 15
6 TO 8pm
PELICAN RANCH WINERY
SWIFT STREET COURTYARD
WESTSIDE SANTA CRUZ
WINE BY PELICAN RANCH WINERY
FOOD BY INDIA JOZE!
SILENT AUCTION!
TICKETS: $20/ADVANCE – $25/DOOR
Please visit the FOLF website for more information
TICKETS: John 425-4744 or Matt 423-4784
Friends of Lighthouse Field (FOLF) invites Santa Cruz dog lovers to attend the "Wet Your Whistle and Your Dog's Whistle" fundraiser at Pelican Ranch Winery at the Swift Street Courtyard on Friday, September 15 from 6 to 8 pm. The event, a wine-tasting, networking social will raise funds for the installation of a new human/pet water fountain in Lighthouse Field as well as funds to continue our ongoing campaign to preserve Lighthouse Field State Beach for off leash access by responsible pet owners. Tickets are $20 in advance and $25 day of the event.
News Bites
FRIDAY, SEPTEMBER 15 – "WET YOUR WHISTLE" FUNDRAISER!
Raise a glass of fine Pelican Ranch wines, enjoy finger foods by India Joze, and raise money for a new human/dog water fountain at Lighthouse Field as well as funds to continue our ongoing campaign to preserve LFSB for off-leash access by responsible pet owners. There will also be a silent auction, so bring your checkbooks. Tickets are $20/advance and $25/door. 6-8pm at Pelican Ranch Winery in the Swift Street Courtyard at 402 Ingalls Street on the Westside of Santa Cruz. Check the Pelican Ranch website for directions. Tickets can be obtained by contacting John McGuire at 425-4744 or Matt Cocchi at 423-4784. Please make sure that you, your friends, and family buy tickets and attend.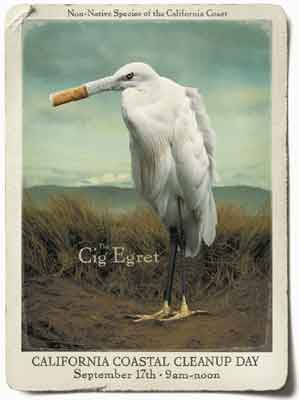 SATURDAY, SEPTEMBER 16 – ANNUAL COASTAL CLEANUP DAY!
9am to noon, we will be cleaning up Lighthouse Field and Its Beach as part of the Coastal Cleanup. We will have beverages and snacks for those of you that help. The Cleanup kicks off a three week celebration of the coast. Check out the Coastal Cleanup website for more activities, including nature hikes, sea otter week and educational events at Seymour Center.
SC CITY PARK & REC ASKED DOG OWNERS FOR SUGGESTIONS
Park & Rec held two meetings in August to ask Santa Cruz citizens what suggestions they had and what services they would like to see in the future. The August 23rd meeting at Frederick Street Park was attended by over 50 people and 20+ dogs. The August 31st meeting at Meder Park was attended by over 60 people and 25+ dogs. Thanks to all who came - your suggestions were great! The suggestions will be presented to the Parks & Rec Commission meeting on October 9 at 4pm in the City Council Chambers. Here are the suggestions folks made. The meeting at Frederick Street made the local news, click here to see the KSBW report and video.
FOLF UPDATES...
Santa Cruz City Council has three openings coming up at this November's election. There are six candidates running for three City Council seats: Simba Kenyatta (Community Volunteer), Bruce Van Allen (Software Developer), Chris Cobb (Business Development Professional), Cynthia Mathews (Councilmember), Lynn Robinson (Garden Designer/Businesswoman), and Mike Rotkin (College Teacher/Councilmember). To see where the candidate's stand on the LFSB and off-leash issues, FOLF sent out questionnaires to the candidates. Survey results and candidate recommendations will be announced soon. We need to vote and let the council and candidates know that we want more support of off-leash access in Santa Cruz! Watch folf.org for this information.
Scoobie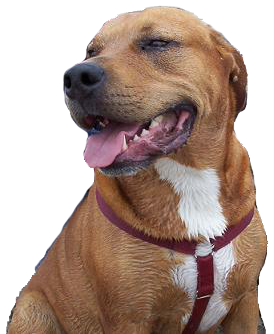 LIGHTHOUSE FIELD YAHOO GROUP
Want to connect with other LFSB users, share pictures, read newsletters, and see proposed legislation? Tim Bowden set up this Yahoo group, along with his partner Niki J, and Scoobie, the 124-pound Rotti mix (at left). Tim says "there is a need to share information... like the weirdo on the back trail in the park who pulled a knife when the wonderful little pups Buddha and Stella barked at him, or when we lost Bones, or whatever became of Luna, or where is Baxter, and will Tango be back from the long camping trip soon?" This is also a great way to share information about behaviors and exchange ideas: how can we encourage everyone to pick up their poop? Check it out at: http://groups.yahoo.com/group/FoLF. This is not moderated or hosted by FOLF, but we encourage you to join and use this forum to communicate with each other.
FOLF BUMPER STICKERS
The "I Like Dogs and I Vote" bumper stickers are freely available to anyone! Show your support! Get your own by contacting Zee Zaballos, or sending your request to FOLF, 849 Almar Ave., Suite C-PMB414, Santa Cruz, CA 95060. Donations welcome!
OTHER NEWS
PETITION...
You are doing it! Last month we sent you a link to a petition that will be presented September 18 to the Santa Cruz County Parks & Rec Commission in support of an off-leash area at "The Farm" Park and Community Center. So far there are over 600 signatures! If you missed it last month, here is the link again. There is a short summary and a full one-page petition at http://www.thepetitionsite.com/takeaction/657449927?ltl=1152403666. The FOLF board supports the need for all kinds of off-leash recreation, fenced or unfenced, developed or natural, and we support this petition.
SEPTEMBER 16 – COMMUNITY DESIGN WORKSHOP
10a.m. – p.m., Gault Elementary School, 1320 Seabright Avenue, Santa Cruz. Help design the future of Santa Cruz to keep it unique. The results of this workshop will guide the General Plan Advisory Committee in drafting goals and policies for General Plan 2025. A working lunch will be provided. For more information, call (831) 420-5110 or visit the website. To see the General Plan, click here. This is not a dog-specific meeting.
SEPTEMBER 18 – SANTA CRUZ COUNTY PARKS & REC MEETING... Off-leash at The Farm Park?
Monday, September 18, 7:15p.m., Government Center, 701 Ocean Street, 5th Floor (Board Chambers), Santa Cruz. This is a public hearing to consider recommendations and review the final conceptual plan for "The Farm" Park and Community Center - this includes an OFF-LEASH area! For information, contact Sheryl Bailey, Redevlopment Project Manager at 454-2280.
Lighthouse Field Friends
Celes enjoys petting all
the dogs at LFSB until he
owns a place for his own.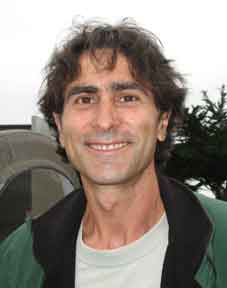 You may not know his name, but he knows your dog's name! You probably recognize his face: he's been the Parks Department worker for Lighthouse Field for the last three seasons... Celes Figueres.
Celes (pronounced thellis) came to Santa Cruz almost 20 years ago to visit his sister, and never left! He fell in love with the area, it reminded him a little of his home town of Valencia, Spain... a coastal town.
Celes' name comes from the latin for "heavenly one" and the dogs at LFSB all agree.... he always has a dog biscuit or attention to give to them. He's always loved dogs, especially labs and beagles, and looks forward to living with a dog someday again. "You know how hard it is to rent when you have a dog here, I am waiting until I can buy my own place to get another dog" says Celes. For now, he lives with a cat named Lolo (short for Manolo), a beautiful light orange and white kitty.
His favorite part of the park is how wild it is and the cypress trees remind him of Spain. He also loves the the beautiful views from the cliffs. Echoing the thoughts of many of us, his least favorite part of the job is irresponsible pet owners. "In my home in Valencia, it is very clean. Everyone keeps it clean. If a newspaper blows off a cafe table, everyone runs to pick it up. Here, there are a few people that let their dogs go in the flowers on West Cliff and they walk away." This is not to say that Celes does not support dogs in the area, he loves all the dogs (and they love him), but he wishes ALL pet owners would act responsibly. (FOLF agrees with Celes - we think the park is beautiful, but not with left-behind poop.
Celes enjoys his job looking after Lighthouse Field and West Cliff, you can tell just by his constant smile. He was hired as a permanant employee this year... Congrats, Celes, and thanks for being such a good friend to us and our pups!
What You Can Do
FOLF Fundraiser
Please make sure that you, your friends, and family buy tickets and attend. We need donations of goods or services for the silent auction. We also need help with ticket sales, flyer distribution, and help at the event. Come join other FOLFers and have fun! Contact: Zee Zaballos zee@zna.com for more information.
Spread the Word!
We need people willing to hand out the newsletters (and other flyers) occasionally. Contact: Kristi kbittner@cruzio.com
Act Politically!
Help FOLF with candidates in the next local election. Contact: Matt cruzan60@yahoo.com. Team up with other FOLFers to educate and advocate with city and state officials. Contact Betsy Fire78_b@yahoo.com.
Clean-up!
Volunteers are needed to organize regular LFSB clean-ups. This entails working with the park to choose dates, sending out notices to the media, and supervising the day of the clean-up. (I've done it, and the parks department makes it really easy, you just have to keep track of what has been cleaned. I came away from the experience energized by how helpful and friendly our dog-owners are! – Whitney) Contact Betsy Firebaugh.
Of course, volunteers are always needed for 1-3 hours each month for the LFSB clean-ups. Check the FOLF website for dates for upcoming clean-ups – next one is September 16!
Bags
We've all been there - puppy poops and the bag dispenser is empty. Bring your plastic grocery bags to share and recycle. Please drop off bags at any of the stations in the parks.
Write letters!
City and State Officials give strong consideration to letters from local citizens! John Laird said, "Anyone who takes the time to write me a handwritten letter means that person cares enough about an issue to take the time to express their wishes … that really impresses me." They need to keep hearing from us until they promise continued off-leash access at LFSB! Please continue to communicate your wishes to our elected representatives. See www.folf.org for mailing addresses. Also please continue to write letters to the editor of The Santa Cruz Sentinel.
Watch out !
Did you see something in the LFSB that bothered you? Hypodermic needles? Missing poop bag dispenser? Homeless encampment? We need to work with the park to help keep LFSB safe and clean for everyone. Contact: Whitney and she will pass along the information to the right people.
Paw Prints Calendar
SEPTEMBER 10 - T-Touch for Dogs in Bonny Doon
Sunday, September 10 from 9:30a.m. to 4:30p.m. Learn how to do T-Touch! It is amazing. It relieves your dog's stress & pain, helps them focus, improves performance and it will deepen your connection with your best friend. Use an obstacle course for basic training and problem solving. Pre-registration required. For more information, contact Jodi Frediani at 831-426-1697 or JodiFredi@aol.com
SEPTEMBER 16 - Bark in the Park, San Jose
Saturday, September 16, 10a.m. to 5p.m., William Street Park (William and South 16th Streets) in San Jose. $5 donation per registered pet is requested. A day full of fun events, training, demonstrations, contests, 70+ vendors, music, food, performances and competitions. Activities include: dog water park, agility course, kids' activity area, celebrity guests, dog costume contest, flyball, sheep herding, disc dogs, and much more! Dogs must be leashed.
SEPTEMBER 23 - Canine Good Citizen Evaluation, Aptos
Saturday, September 23 in the late afternoon. The fee is $10. Lori Katz of Kindred Spirit will be offering AKC's evaluations. The CGC program encourages responsible pet ownership and well-behaved dogs. The test consists of 10 parts such as grooming, walking through a crowd, come, sit and stay. Contact Lori Katz at (831) 685-DOGS (3647 or email Lorikatz@aol.com.
FIRST TUESDAY - Pet Parenting Support
6:30 PM, Live Oak Senior Center, 1777 Capitola Road (near 17th Avenue), Santa Cruz. This free, drop-in group will coach you in training your newly adopted dog and helping you overcome some of their challenging behaviors and common problems. These sessions are for people, so please leave your dogs at home. Reservations required: 831-475-1580. Sponsored by: Bed and Biscuits, Lori Katz of Kindred Spirits Dog Training, and the Santa Cruz SPCA.
2ND & 4TH WEDNESDAY - Grief Support Group
7 PM, 2701 Chanticleer Ave., Santa Cruz. The group is based on the belief that grief needs to be shared in order for healing to happen. We are a story-telling and listening group. Contact the Santa Cruz SPCA at (831) 465-5000 for more information.
SUNDAYS - Dog Agility
Every Sunday from 3-5 PM at Wilson Vet Clinic parking lot, 24900 Highland Way (off Summit Road) in the Santa Cruz Mountains. Contact Kristina Irvin or just show up. Items to bring besides your dog - leash, treats, toy and enthusiasm. Cost: donation, the money will go for more equipment. For more information call Kristina Irvin at 408 353-5358 or 408-506-8670 or IN8RUNNER@aol.com.____________________________________________________________________________________________
WEBSITES OF THE MONTH:
PetNet - Do dog owners enjoy better health? This is a great site for all kinds of info about the benefits of dogs in society. Based in Australia, it has great suggestions on renting with pets, dogs & kids, municipal pet management, and dog care.
Annie's Blankets - This non-profit organization collects old blankets and towels to donate to local animal shelers and clinics. Check their website for drop-off locations.
____________________________________________________________________________________________
FOLF BOARD (and dogs):
FOLF board members (and their dogs) are: Betsy Firebaugh (Sadie & Maggie), Mike Tilson (Cibo), Kristi Bittner (Kate), Bev Tracey (Roxie), Bob Campbell (Shayna & Zeke), Matthew Cocchi (Gunner), John McGuire (Gracie & Rosie), and Zee Zaballos (Bandit & Cuba). Look for these folks at the Field or to contact the board, please email Betsy Firebaugh.
NEWSLETTER TEAM (and dogs):
design: Whitney Wilde (GiGi)
editorial & distribution : Kristi (Kate), Jill (Charlotte), Stephanie (Maggie & Lilah Jean the Puppy Queen), Cathy Sutton (Sienna & Zoe), Sandy Mason (Duke), and Josette Nauenberg (Cappi, Flora & Jet).
FOLF • 849 ALMAR AVE • SUITE C-PMB414 • SANTA CRUZ • CA 95060 • www.folf.org